If you have information concerning these unknown suspects: 1(800)-AA-CRIME
WE HAVE 7 PLACES TO BECOME A CRIME STOPPER! Wanted Suspects Unsolved Crimes Crime of the Week Cold Case Homicides Animal Abuse Still on the Run Missing Persons
If your tip led to an arrest - You may have a REWARD. Call 1-800-AA-CRIME between 12 & 1 PM (PST) any Tuesday to check for any pending Rewards.
Like us on Facebook!
Please note a criminal charge is an accusation. The defendant or suspect is assumed innocent unless and until proven guilty.
Tenga en cuenta que un cargo penal es una acusación. Se supone que el acusado o sospechoso es inocente a menos que y hasta que se demuestre su culpabilidad.
Sponsor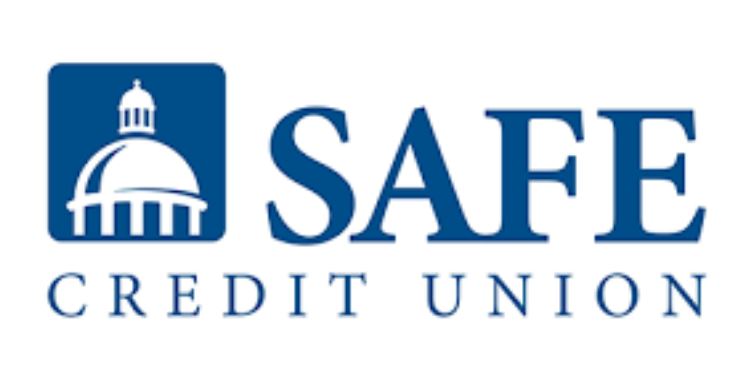 Burglary El Dorado SO 22-3388 CS 22-033
June 13, 2022
On May 8, 2022, the victim's car was parked at Skunk Hollow parking lot in Pilot Hill, CA where it was burglarized, and her purses were stolen. Stolen credit cards were then used at Best Buy in Citrus Heights (6110 Birdcage Centre Ln) at 12:41 and 12:44 PM.
Suspect 1 is a male adult of unknown race and is wearing the vest.
Suspect 2 is a male adult of unknown race.
The suspect vehicle is a white 2016-2020 Kia Sorento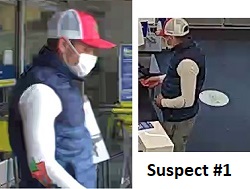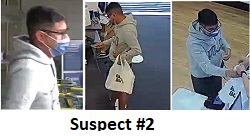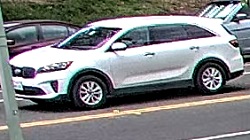 ---
THEFT & CREDIT CARD FRAUD CS 22-032
June 07, 2022
This suspect committed theft and credit card fraud in early May, 2022, in Placer County

---
BURGLARY SSD 22-14082 CS 22-031
May 03, 2022
On January 15, 2022, at 9:53 am, the suspect parked in front of the victim business at 3912 Fruitridge Road. He forcibly entered the business using a pry tool and took cash register drawers and cash. He fled the area in an early 2020s Chevrolet Silverado, white/silver, with black rims and an unknown plate.
Suspect: Hispanic male adult, 5'8" - 5' 10", wearing a dark gray or black hooded sweatshirt with a white skull and white wrenches on the front, a white undershirt, blue jeans, and black/white Nike shoes.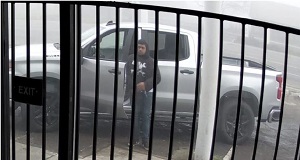 ---
CARJACKING SSD CID ROBBERY 22-103636 CS 22-030
May 03, 2022
On April 11, 2022, at approximately 1:50 AM, the Victim was unloading luggage from his vehicle in front of his residence on the 6200 block of 41st Street when he was approached by a group of five male juveniles aged 15-18. The subjects demanded his vehicle keys, and the victim stated he could see the handle of a firearm inside Suspect #2's jacket pocket. Suspects 2 and 3 followed the victim into his garage where they obtained the victim's vehicle's keys. All 5 suspects entered the vehicle and fled north on 41st Street. The victim's surveillance camera captured images of Suspects 2, 3, and 4. The vehicle was located abandoned approximately forty minutes later on Rodolfo Ct.

Suspect #1: Black male juvenile, 15-18, 6'00'', 160-170 pounds, black jacket with gold emblem on front, basketball shorts, tennis shoes.

Suspect #2: Black male juvenile, 15-18, light skin, 5'09'', 150-160 pounds, black puffy jacket, green/black camouflage pants, black shoes, black facemask, black firearm.

Suspect #3: Hispanic male juvenile, 15-18, 5'07''-5'08'', brown curly hair, black hooded sweatshirt with yellow and red writing or design on front, red t-shirt underneath, blue jean shorts, red/white basketball shoes (possibly Jordan Carmine 6's).

Suspect #4: Hispanic male juvenile, 15-18, 5'01''-5'03'', thin, black sweatshirt, blue pants, black tennis shoes, black facemask

Suspect #5: Black male juvenile, 15-18, no further description available.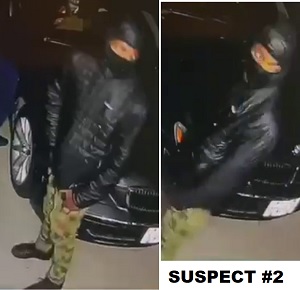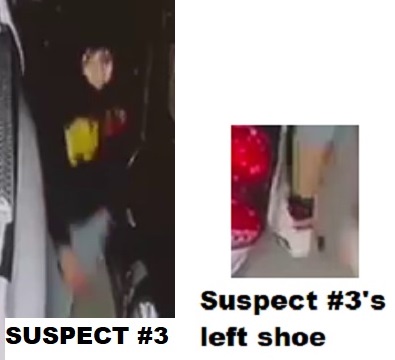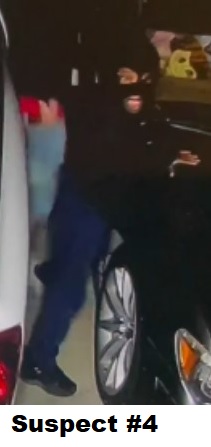 ---
HOMICIDE 4-21-22 SACRAMENTO CS 22-029
April 21, 2022
Police said officers are investigating a shooting that left two people dead in downtown Sacramento Thursday afternoon, April 21, 2022.
An assault was reported before3 PM near T and 11th streets. When officers arrived, police said they found a man and woman who both had at least one gunshot wound. Both were pronounced dead at the scene.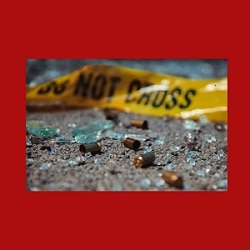 ---
PLACER HOMICIDE OF ERICA WRIGHT CS 22-028
April 21, 2022
Placer County Sheriff's Office is investigating after a woman was found dead inside a home early Wednesday morning, April 20, 2022.
Deputies responded to a 911 call shortly after midnight at a home on Livoti Avenue in Roseville, the sheriff's office said.
When deputies entered the home, they found the body of 41-year-old as Erica Marie Wright. The death has been ruled a homicide.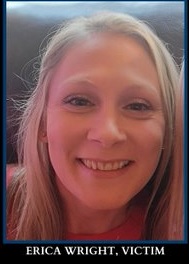 ---
HOMICIDE 11000 BLOCK FAIR OAKS BLVD CS 22-027
April 19, 2022
On Monday, April 18, 2022, at approximately 6:56 p.m., a shooting that just occurred at the park located on the 11000 block of Fair Oaks Boulevard. Callers advised that someone had been shot and was lying in the parking lot. Additional callers stated the shooter, an adult male, left the park on foot traveling northbound through the park to Madison Avenue across the street and into the City of Citrus Heights. A short time later, callers traveling on Madison Avenue just west of Fair Oaks Boulevard reported hearing several gunshots and seeing an adult male on the ground at the north side of the street.
Deputies responded to the park and located an adult male suffering from at least one gunshot wound to the upper body, and he was pronounced deceased at the scene. Deputies then responded to the north side of Madison Avenue and located a second gunshot victim who was transported to a local area hospital and later pronounced deceased.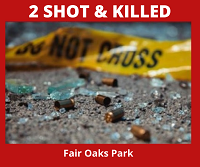 ---
CSUS CATALYTIC CONVERTER THEFTS CS 22-026
April 17, 2022
Sacramento State's Police Department is reporting a rise in catalytic converter thefts from vehicles on campus, and identified the individuals pictured here as people of interest. Higher ground-clearance vehicles and Hondas are being targeted. A previous surge had been reported in September 2021. While thefts have centered around Hornet Commons, parking lot 10, parking structure 5 and Folsom Hall, authorities say people should keep in mind that thefts can occur anywhere vehicles are parked.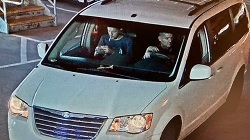 ---
RESIDENTIAL BURGLARY RCPD 22-92969 CS 22-025
April 15, 2022
On March 31, 2022 at 6:52 PM, two suspects attempted a Home Invasion in the city of Rancho Cordova. After knowing the female suspect for a time, the victim had invited her to his residence. After a time, she exited the home to retrieve an item from her vehicle and returned. Approximately five minutes later, the male suspect entered the victim's residence through the unlocked front door and pepper sprayed him. The victim retrieved a handgun, whereupon the suspects fled.
Suspect #1 is a White female adult in her late 20's, 5'06" tall, normal build, long brown curly hair, wearing a black jacket, tan shorts or skirt.
Suspect #2 is a possible White male adult of unknown age, 5'08"-6'00" tall, thin, wearing a black &white checkered jacked, black mask, black hoodie, light colored jeans and wearing a dark backpack.
They left in a Silver, possibly a 2019, stock Toyota Corolla with no front plate.

---
ARMED ROBBERY SSD #22-93677 CS 22-023
April 07, 2022
On April 1, 2022, at 2:20 PM, two victims were leaving Roxy Restaurant on Fair Oaks Blvd. Two suspects armed with semi-automatic handguns exited a Chevy Silverado, pointed the handguns at the victims, and demanded a victim's wallet and Rolex Submariner. The suspects assaulted the victim, resulting in visible injuries. The suspects took the watch and fled in the Silverado.
Suspect 1: Black male, 20 - 25 years old, 5' 08" to 5' 10", 150 - 165 pounds, wearing a black jacket, dark facemask, green pants, and white/black tennis shoes.
Suspect 2: Black male adult, 20 - 25 years old, 5' 11" to 6", 160 - 170 pounds, wearing a dark jacket, dark facemask, red pants, and black tennis shoes.


---