If you have information concerning these suspects or unsolved crimes: 1(800)-AA-CRIME
If your tip led to an arrest - You may have a REWARD. Call 1-800-AA-CRIME between 12 & 1 PM (PST) any Tuesday to check for any pending Rewards.
Sponsor
HOMICIDE SPD #19-190076 CS TIP #20-005
February 04, 2020
The Sacramento Police Department is currently seeking the public's help to Identify the persons responsible for this crime.
On Sunday, June 15, 2019, at approximately 11:19 PM, officers from the Sacramento Police Department responded to the 800 block of Calvados Avenue regarding a shooting. Officers arrived and located two victims with multiple gunshot wounds. One of the victims was identified as James Your. Officers immediately took lifesaving measures until relieved by Sacramento Fire Department personnel.
Both victims were transported to a local area hospital. Despite life-saving efforts, James Your succumbed to his injuries and was pronounced deceased at the hospital. The other male adult sustained anon-life-threatening injury. Officers conducted a canvass of the area and located multiple witnesses and evidence.
Homicide investigators do not believe this was a random act, and that incidents as far away as Shasta County may be related to the death of James Your.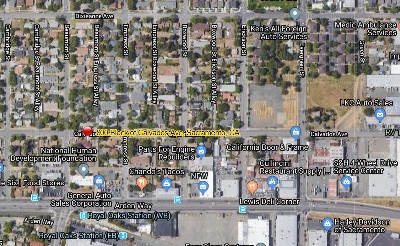 ---
FRAUD Elk Grove PD #19-501677 CS Tip #20-004
January 24, 2020
On November 21, 2019 at about 3:15 PM, the unknown female suspect entered the JP Morgan Chase Bank located at 8725 Elk Grove Boulevard and used a false identification card to access the victim's personal banking account. The suspect was able to withdraw over $1,000 from the victims checking account in addition to obtaining several "counter checks." The suspect attempted to make an additional withdraw but fled the scene when she was told she would need additional approval from the bank. The same suspect attempted to open several credit accounts at local businesses using the victim's identity. The suspect committed similar crimes in Sacramento, Roseville, and Dublin (California).
The suspect is described as a Caucasian female adult, late 30's, between 5'09" and 5'10" tall, 185-200 pounds, with black hair (possibly a wig), and a black cast or brace on her right hand. v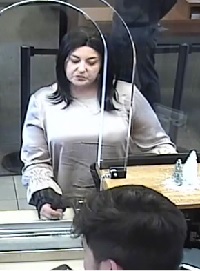 ---
ARSON SFD CS #20-003
January 14, 2020
Sacramento Fire Department Fire Investigators are attempting to identify the arson suspect in the attached photo. Investigators advise that the suspect is a regular at Loaves and Fishes and he has been seen in the area of N 16th. He usually wears a distinctive SF Giants hat and carry's a blue bag as seen in photo. He also may be wearing a tan hoodie with white striping.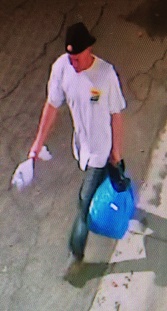 ---
BANK ROBBERY, SPD #20-8244 ncu 3-6 CS #20-002
January 14, 2020
On January 8, 2020, at approximately 2:06 PM, the Citi Bank located on Alhambra Boulevard, Sacramento, was robbed. The suspect threatened the teller with a bomb and demanded money. The teller was in fear and gave money to the suspect. The suspect was captured on surveillance video fleeing southbound on Alhambra Boulevard on what appeared to be a JUMP bike. On January 8, 2020, at approximately 1:50 PM, another robbery occurred at the Money Mart located on Broadway. The suspect used the same modus operandi and had the same physical description.
The suspect is described as a White male, 30 to 45 years old, 5' 08" to 5' 11" tall, with a medium build, and possibly wearing transitional glasses. He had a brownish or olive drab-green color hooded zip-up sweatshirt with canvas material (Carhartt-style jacket) with a white linen towel covering the bottom half of his face. He displayed a plastic film cannister with a blinking light (threatening a bomb).

---
HOMICIDE SPD Case# 15-182055 CS #15-022
January 14, 2020
On Sunday, JUNE 28, 2015, at approximately 11:20 AM, the victim, ANTHONY BARAJAS, was shot and killed by an unknown assailant ass he was driving on Meadowview Road. The Suspect's vehicle is pictured here.
The Sacramento Police Department has pursued and exhausted all investigative leads, and to date, the murder of Anthony Barajas remains unsolved.
On December 30, 2019, Governor Gavin Newsom signed a proclamation authorizing a reward in the amount of $50,000 for new information leading to the arrest and conviction in a California court of any person who has committed or is charged with the commission of the murder of Anthony Barajas.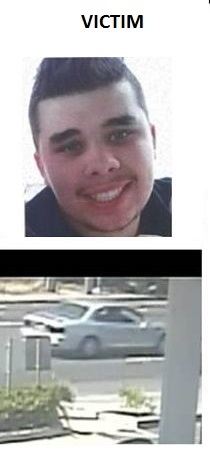 ---
ARMED ROBBERY, NCU-South SPD #19-414177 CS Tip #19-053
December 31, 2019
The Sacramento Police Department is currently seeking the public's help to identify the persons responsible for this crime.
On December 26, 2019, at about 5:13 PM, a Black male adult entered Ming Dynasty Restaurant on Broadway. The suspect waited in the lobby while a paying customer got food and left. The suspect walked up to the cashier, pulled a black revolver handgun from his pants pocket, pointed the gun at the cashier, and demanded money. Once the suspect received cash, he left on foot in an unknown direction. There is a possibility the male White adult in the photo may be involved. While the suspect was waiting in the lobby, the white male entered the restaurant, spoke briefly with the suspect, and then left. The white male appeared to be holding something in the left pocket of his sweatshirt.
The Black male suspect is approximately 6' tall with a muscular build, and has a one-inch goatee with mustache. He was wearing black shoes, black pants, and a black hoodie with a white Nike Air Jordan emblem on the front and white "Air Jordan" writing on both arms. He had a black backpack.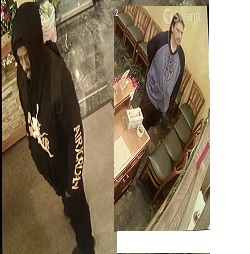 ---
HOME INVASION, NCU-N SPD #19-405516, CS Tip #19-050
December 23, 2019
On December 17, 2019, two suspects approached the victims, who were sitting in a vehicle in front of a residence on the 1000 block of North Avenue. The suspects pointed guns at the victims, and forced them into the residence. The suspects then confronted the homeowners and hit one of them on the head with a gun. They stole items from the residence and fled, possibly in a light-colored sedan.
Suspect #1 is described as a light-skinned Black male adult, about 23 years of age, 5' 10" tall, 155 pounds, with curly black hair. and wearing a blue, white, and yellow jacket.
Suspect #2 is described as a Black male adult, 18 years old, with short dreads and wearing a blue sweatshirt.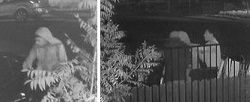 ---
ARMED ROBBERY, SPD #19-384634, CS Tip 19-047
December 10, 2019
The Sacramento Police Department is currently seeking the public's help to identify the persons responsible for this crime.

On November 27, 2019, at approximately 9:30 PM, four suspects entered the 7 Eleven located at 2005 Marconi Avenue. The clerks attempted to thwart a petty theft/shoplifting being committed by suspects 3 and 4. Suspect 3 became physical, punching the clerk in the face. Once outside the business, all four suspects began attacking the clerk. Suspect 2 brandished a black handgun at the pursuing clerks. Suspect 2 then handed the handgun to Suspect 1, and they departed westbound on Marconi Avenue towards Roseville Road.
Suspect 1 is an Hispanic male adult in his mid 20s.
Suspect 2 is an Hispanic male adult in his mid 20s, 5' 09" tall, weighing 160 pounds.
Suspect 3 is a Black male adult in his late teens, 5' 08" tall.
Suspect 4 is an Hispanic male adult in his early teens, 5' 07" tall, weighing 130 pounds.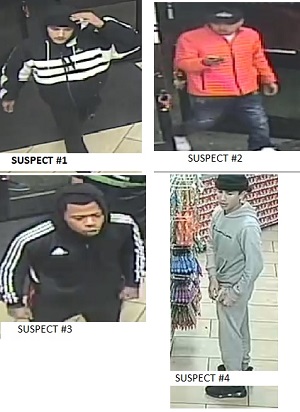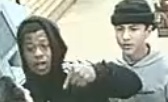 ---
MAJOR INJURY HIT AND RUN COLLISION, SPD #19-370357, CS Tip 19-046
December 10, 2019
The Sacramento Police Department is currently seeking the public's help to identify the person responsible for this crime.
During the early morning hours of November 15, 2019, a red Ford F-250 truck was stolen from the 4400 block of Truxel Rd. The driver of the stolen truck led police on 2 high speed pursuits through north Natomas, which officers terminated due to the suspect's reckless driving. Later at about 5:30 am, the stolen truck was involved in a major injury hit and run collision in the area of Elverta Rd/Dutch Haven Rd in Sacramento County. The stolen truck was recovered. The driver of the stolen truck fled on foot and may have sustained injuries from the collision. Detectives are seeking information leading to the identity of this suspect.
The suspect is described as a White male adult wearing dark clothing, a flat-bill baseball hat, and yellow gloves.


---
ASSAULT WITH A DEADLY WEAPON, SPD #18-286577, CS Tip #19-045
December 03, 2019
The Sacramento Police Department is currently seeking the public's help to identify the person responsible for this crime.
Just before 10:00 PM on September 7, 2018, the victim was in a 2018 Ford F-150 silver pickup truck. They stopped at the Arco on Arden and Ethan and continued traveling westbound on Garden Highway. As they approached I-5 someone in an unknown vehicle fired approximately six shots into the passenger side of the vehicle. The suspect vehicle presumably continued to travel onto southbound I-5. During the shooting, one of the passengers was shot once and will likely be paralyzed for the rest of their life.
At this time, there is no suspect description or known motive for the shooting. This is suspected to be a gang shooting.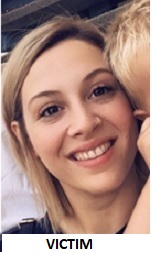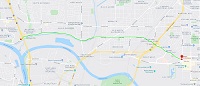 ---