If you have information concerning these unknown suspects: 1(800)-AA-CRIME
WE HAVE 7 PLACES TO BECOME A CRIME STOPPER! Wanted Suspects Unsolved Crimes Crime of the Week Cold Case Homicides Animal Abuse Still on the Run Missing Persons
If your tip leads to an arrest - You may earn a cash REWARD up to $1,000. Call 1-800-AA-CRIME between 12 & 1 PM (PST) any Tuesday to check for any pending Rewards.
Like us on Facebook!
Please note a criminal charge is an accusation. The defendant or suspect is assumed innocent unless and until proven guilty.
Tenga en cuenta que un cargo penal es una acusación. Se supone que el acusado o sospechoso es inocente a menos que y hasta que se demuestre su culpabilidad.
Sponsor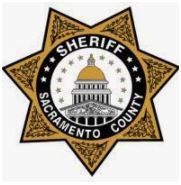 ARSON SFD CS 23-032
May 31, 2023
On May 13, 2023, at about 4:33 PM, this suspect was captured on video lighting a garbage can on fire at historic "Heilbraun" mansion at 704 O Street in Sacramento.
The suspect is described as a Black male adult, 5'10" to 6'3", 220 to 250 pounds, with a bald head and beard.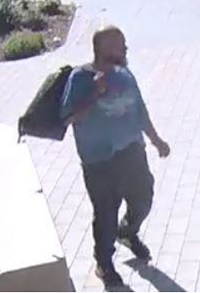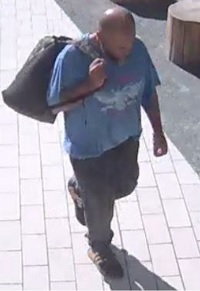 ---
ROBBERY SPD NCU-N 23-117130 CS 23-031
May 23, 2023
On April 29, 2023, officers responded to a robbery report on the 1700 block of Arden Way. At 9:54 PM, the suspects approached a vehicle and pepper-sprayed the individual in the driver's seat. The suspects then took the victim's cross-body satchel and silver chain. They were last seen running toward Best Buy.
Suspect #1 is a White male adult with a medium build. He wore a black hooded sweatshirt, blue jeans, black shoes, and had a brown face mask.
Suspect #2 is a Black male adult. He wore a black T-shirt, light-wash jeans, black and white shoes, and had a blue cast on his right hand.
Suspect #3 is a Black male adult. He wore a black hooded sweatshirt, light-wash jeans, and black shoes.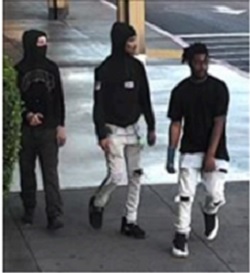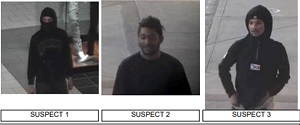 ---
HOMICIDE SPD 22-167198 CS 22-037
May 22, 2023
On June 15th, 2022 at approximately 10:22 PM, Officers responded to the 3000 block of Ponderosa Ave in North Sacramento regarding a shooting that had just occurred. The victims were seated in their parked vehicle when a shooting occurred, with a gunshot striking victim Detwarn Buntun. Buntun later died at the hospital from his injuries.
ALMOST A YEAR HAS PASSED - CAN YOU GIVE AN ANONYMOUS TIP THAT WILL SOLVE THIS HOMICIDE?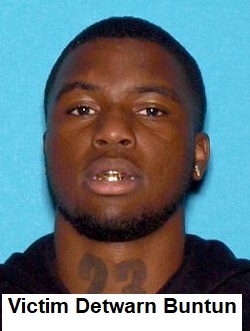 ---
ROBBERY SPD 23-131115 CS 23-029
May 15, 2023
On May 13, 2023 at approximately 8:46 AM, officers responded to a robbery at CVS Pharmacy at 6401 Mack Rd.
The manager advised the suspect began to remove powdered baby formula from the shelf and place it in a bag. The manager and an employee confronted the female, who threatened them.
The female exited the store and was last seen on foot towards La Mancha Way.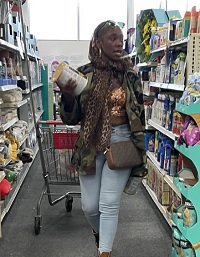 ---
SHOOTING IN SACRAMENTO SPD Felony Assaults 23-131936 CS 23-028
May 15, 2023
Two minors, including a baby, were among the four people shot in the north Sacramento area on May 13, 2023.
Sacramento Police officers responded just after 10 PM to a reported shooting in the area of Del Paso Boulevard and Fairfield Street.
Three men walked up to a corner store, looked at a group around the corner, and began firing shots before running away.
Two adults and two minors were struck, and suffered non-life-threatening gunshot wounds.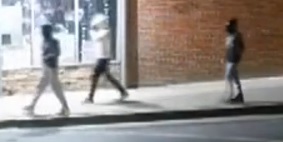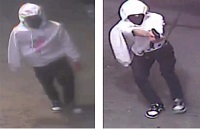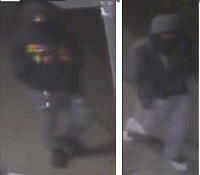 ---
INDECENT EXPOSURE CS 23-027
May 15, 2023
On May 11, 2023, at 9:15 PM, CSUS had an indecent-exposure incident outside the Hornet Common Housing Complex.
The suspect is described as a White male on a mountain bike, possibly in his 50s, with grey facial hair, wearing a tropical-style short-sleeve shirt over blue t-shirt, & tan cap.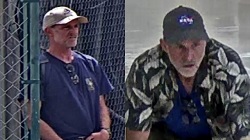 ---
ASSAULT W/ DEADLY WEAPON SSO Nor Patrol 23-93629 CS 23-025
May 09, 2023
On March 27, 2023, at approximately 10:00 PM, the victim and a woman named Andrea were walking on Arden Way and Professional Drive. They walked across the crosswalk at from the north side of the street to the south at the entrance into the Safeway parking lot. A witness said some words were exchanged with the driver of the pictured Escalade. The Escalade is seen on video pulling into the driveway, stopping, and a Black male got out. He pointed at the victim, then a flash was seen, and the victim collapsed. A blond White female was a passenger and may be his girl friend.
Victim was shot in the upper torso area. He is alive but possibly paralyzed from the waist down.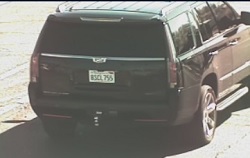 ---
EXPLOSIVE DEVICE SPD 23-96849 CS 23-026
May 08, 2023
On April 11, 2023, at approximately 1:41 AM, Sacramento PD officers responded to Aruba Circle re an explosive device call. During the investigation, officers determined an unknown male approached a residence and left a soda bottle on the front porch. The soda bottle exploded and emitted an unknown white substance across the porch.
Captured in video surveillance, the suspect is described as a male Black adult, medium build, wearing a black T-Shirt with the word "HUSTLE 23" imprinted on the front.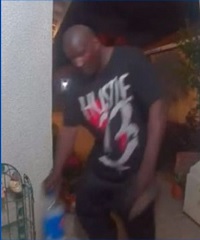 ---
HOMICIDE 10TH & L ST SPD CS 23-022
April 23, 2023
On April 22, 2023, about 1:50 AM, Sacramento PD officers responded to a shooting at 10th & L St. One adult male victim sustained at least one gunshot wound was deceased. Two groups were in a physical altercation before the shooting occurred.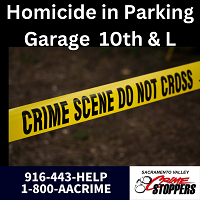 ---
UNSOLVED HOMICIDE Placer County SO
April 22, 2023
Do you know who killed Gary Spohr? He was shot and killed at his residence in Homewood on June 5, 2021.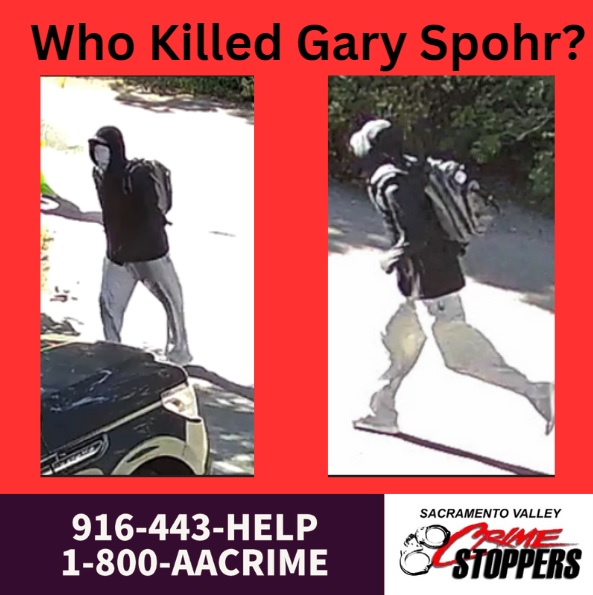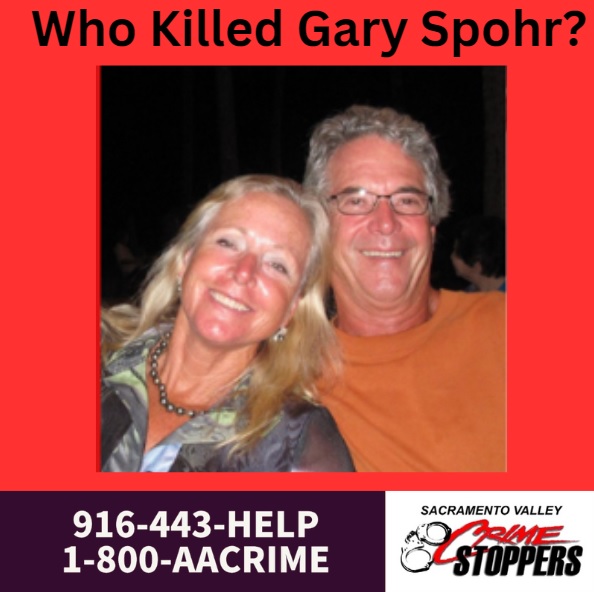 ---
| | | |
| --- | --- | --- |
| Page 1 of 13 | 123 Records | Prev | Next |