If you have information concerning these suspects or unsolved crimes: 1(800)-AA-CRIME
If your tip led to an arrest - You may have a REWARD. Call 1-800-AA-CRIME between 12 & 1 PM (PST) any Tuesday to check for any pending Rewards.
Sponsor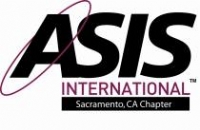 BANK ROBBERIES EDCSO #20-2078 CS Tip #20-009
March 17, 2020
UPDATE: SUSPECT HAS BEEN IDENTIFIED AND ARRESTED
The El Dorado County Sheriff's Department is currently seeking the public's help to identify the persons responsible for these crimes.
Two banks in El Dorado County were robbed: The U.S. Bank inside Safeway in Cameron Park on Tuesday March 10, 2020, by a suspect described as a White male 25-30 years old, wearing a mask, large sunglasses and hooded sweatshirt. The U.S. Bank inside Safeway in El Dorado Hills on Thursday, March 12, 2020 was robbed by a suspect described as a White male, 50-60 years old and wearing a white Under Armour baseball hat and large sunglasses). This suspect is associated with a stolen white '91 Honda Civic CRX.
Also on March 12, 2020, a White male in his 20's holding a tablet was seen possibly casing the Umpqua Bank in Cameron Park. This subject was seen getting into a gray Ford C-Max with two other occupants inside.
In addition the Wells Fargo in Raleys in South Lake Tahoe was robbed on March 14, 2020 by the same suspect described as in his 50's. There have also been bank robberies in East Bay by presumably the same suspect.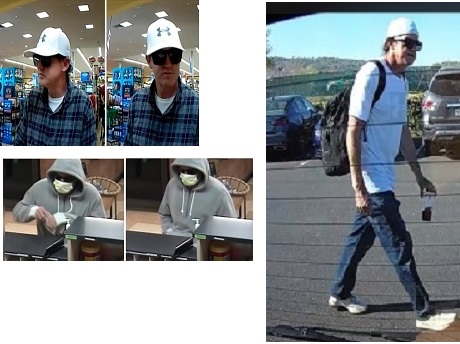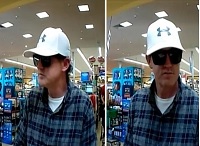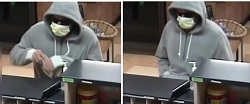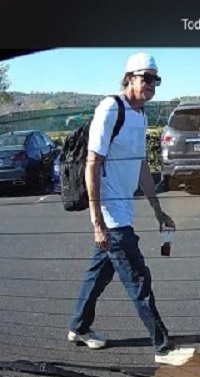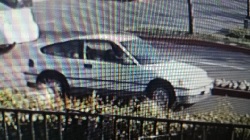 ---
BURGLARY SERIES, EDCSO 19-10661, CS Tip 20-001
March 10, 2020
The El Dorado County Sheriff's Office is currently seeking the public's help to identify the persons responsible for these crimes.
On December 27, 2019, at 7:19 AM, the suspects cased Talisman Collection on Town Center Boulevard, then returned at 7:50 AM, and from 7:53 to 7:55 AM, the male suspect pried unsuccessfully at the door. On December 27, at 7:13 AM, the male and female got out of a white Jeep. The male pried open the side door of Umi Sushi on White Rock Road, and both entered. On January 5, 2020, at 5:29 AM, the same male and female were seen casing Beach Hut Deli and Great Clips on Park Drive. They parked a black Honda Civic, and the male burglarized Beach Hut while the female burglarized Great Clips.
The male suspect wears a bandana with a skull face.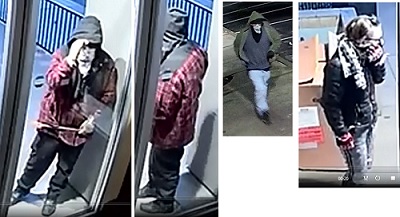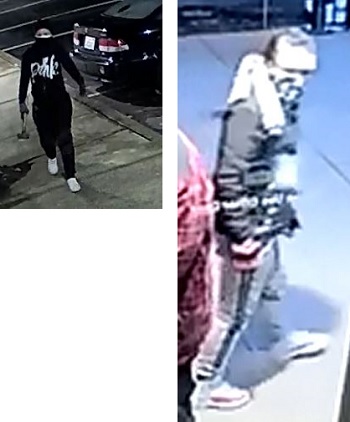 ---
PROWLER SACA SPD #20-26675 CS Tip #20-008
February 14, 2020
On January 25, 2020, at approximately 6:08 AM, the Sacramento Police Department received a call of prowler at a residence. The Victim stated she woke up after hearing strange noises coming from outside her bedroom window. The victim then stated she heard a male voice and moaning noises that she believed to be inside her house. The victim contacted 911 and then observed the suspect at her bedroom window and observed he was masturbating. The suspect was able to make entry into her house through her back secured door. The suspect stood in the hallway near her bedroom with woman's underwear on and his pants down masturbating while talking to the victim. The suspect became startled when officers arrived and fled out the back door of the residence. Officers observed the suspect fleeing from the back of the residence but were unable to capture him at this time.
The suspect is described as an Hispanic male in his late 20's to early 30's, approximately 5' 08" to 5' 10" with short dark hair. The suspect was wearing a gray shirt around the bottom of his face, black women's underwear, dark pants, and no shoes. The Victim described the suspect as having almond shaped eyes and a smooth face. Victim also stated the suspect spoke broken English with a thick Hispanic accent.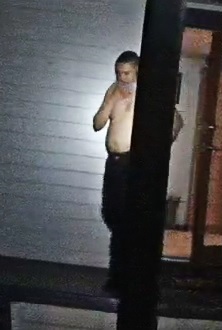 ---
Armed Robbery SPD #20-33057 CS Tip #20-007
February 11, 2020
The Sacramento Police Department is currently seeking the public's help to identify the person responsible for this crime.
On January 30, 2020, officers responded to a robbery at gun point that had just occurred at the Subway on J Street. The suspect entered the business, ordered a sandwich, and when it came time to pay, he presented a black handgun and demanded the cashier give him the money. The employee refused to give the suspect any money. The suspect grabbed the drink and sandwich and walked out of the store northbound on 8th Street.
The suspect is described as a White male, 50 years of age, 5' 05" to 5' 06", skinny, with salt and pepper facial hair (short cut beard). He was wearing a blue/black trucker hat, blue sweatshirt, black track pants with blue stripes on the side, and black Adidas sneakers.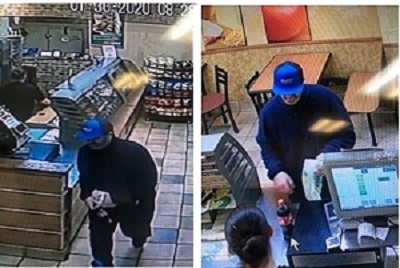 ---
Sexual Assault, SPD CS Tip #20-006
February 08, 2020
Sacramento Police Department detectives are investigating a sexual assault that occurred in the late evening hours of February 4, 2020. Detectives are working to identify a suspect in this case and are seeking the community's assistance.
Patrol officers responded to the area of 14th Street and G Street regarding a sexual assault that had occurred earlier in the night. The preliminary investigation revealed that the suspect brandished a knife and then sexually assaulted the victim. Officers conducted a neighborhood canvass to locate witnesses and surveillance footage. Crime scene investigators also responded to process the scene and collect evidence.
The suspect is described as a male black adult, late 20's to early 30's years old, 5'9 and heavy set. Detectives now also believe that the suspect had a tattoo on his left knuckles, and puffy cheeks as seen in the sketch. The suspect was wearing a black beanie, black hooded sweatshirt with red lettering and black jeans.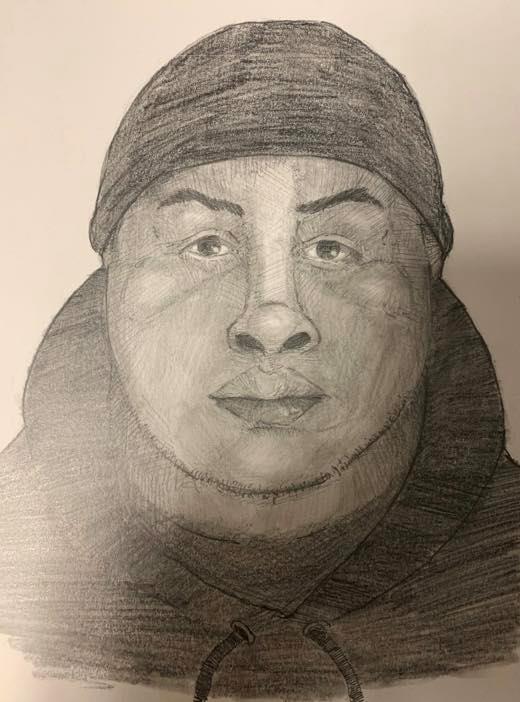 ---
ARMED ROBBERY, NCU-N SPD #19-408895, CS Tip #19-051
February 06, 2020
On December 20, 2019, at 9:00 PM, the suspect entered the Grocery Outlet on West El Camino and was seen putting items into his pockets. When he was confronted by an employee, he lifted up his sweatshirt and displayed a Glock 19 handgun that was in a holster. The suspect did not draw the weapon, but made a comment about shooting the employees. One employee tackled the suspect and disarmed him. The suspect left without his gun and was last seen riding his bicycle eastbound toward Truxel Road. The firearm was stolen from a vehicle burglary earlier that morning on Northview Drive.
The suspect is described as a White or Hispanic male adult in his 20's. He has medium-length brown hair and wore a Cali bear hat, red and black plaid hoodie, and white shoes with black laces and soles.


---
HOMICIDE SPD #19-190076 CS TIP #20-005
February 04, 2020
The Sacramento Police Department is currently seeking the public's help to Identify the persons responsible for this crime.
On Sunday, June 15, 2019, at approximately 11:19 PM, officers from the Sacramento Police Department responded to the 800 block of Calvados Avenue regarding a shooting. Officers arrived and located two victims with multiple gunshot wounds. One of the victims was identified as James Your. Officers immediately took lifesaving measures until relieved by Sacramento Fire Department personnel.
Both victims were transported to a local area hospital. Despite life-saving efforts, James Your succumbed to his injuries and was pronounced deceased at the hospital. The other male adult sustained anon-life-threatening injury. Officers conducted a canvass of the area and located multiple witnesses and evidence.
Homicide investigators do not believe this was a random act, and that incidents as far away as Shasta County may be related to the death of James Your.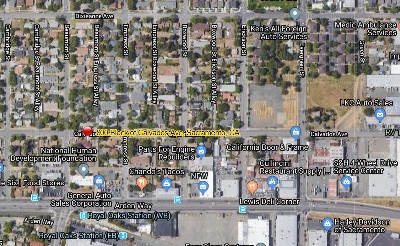 ---
FRAUD Elk Grove PD #19-501677 CS Tip #20-004
January 24, 2020
On November 21, 2019 at about 3:15 PM, the unknown female suspect entered the JP Morgan Chase Bank located at 8725 Elk Grove Boulevard and used a false identification card to access the victim's personal banking account. The suspect was able to withdraw over $1,000 from the victims checking account in addition to obtaining several "counter checks." The suspect attempted to make an additional withdraw but fled the scene when she was told she would need additional approval from the bank. The same suspect attempted to open several credit accounts at local businesses using the victim's identity. The suspect committed similar crimes in Sacramento, Roseville, and Dublin (California).
The suspect is described as a Caucasian female adult, late 30's, between 5'09" and 5'10" tall, 185-200 pounds, with black hair (possibly a wig), and a black cast or brace on her right hand. v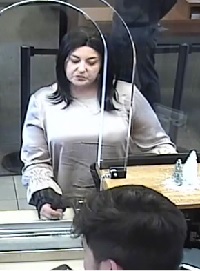 ---
ARSON SFD CS #20-003
January 14, 2020
Sacramento Fire Department Fire Investigators are attempting to identify the arson suspect in the attached photo. Investigators advise that the suspect is a regular at Loaves and Fishes and he has been seen in the area of N 16th. He usually wears a distinctive SF Giants hat and carry's a blue bag as seen in photo. He also may be wearing a tan hoodie with white striping.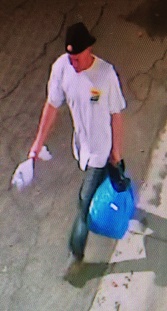 ---
BANK ROBBERY, SPD #20-8244 ncu 3-6 CS #20-002
January 14, 2020
On January 8, 2020, at approximately 2:06 PM, the Citi Bank located on Alhambra Boulevard, Sacramento, was robbed. The suspect threatened the teller with a bomb and demanded money. The teller was in fear and gave money to the suspect. The suspect was captured on surveillance video fleeing southbound on Alhambra Boulevard on what appeared to be a JUMP bike. On January 8, 2020, at approximately 1:50 PM, another robbery occurred at the Money Mart located on Broadway. The suspect used the same modus operandi and had the same physical description.
The suspect is described as a White male, 30 to 45 years old, 5' 08" to 5' 11" tall, with a medium build, and possibly wearing transitional glasses. He had a brownish or olive drab-green color hooded zip-up sweatshirt with canvas material (Carhartt-style jacket) with a white linen towel covering the bottom half of his face. He displayed a plastic film cannister with a blinking light (threatening a bomb).

---
| | | |
| --- | --- | --- |
| Page 1 of 12 | 119 Records | Prev | Next |